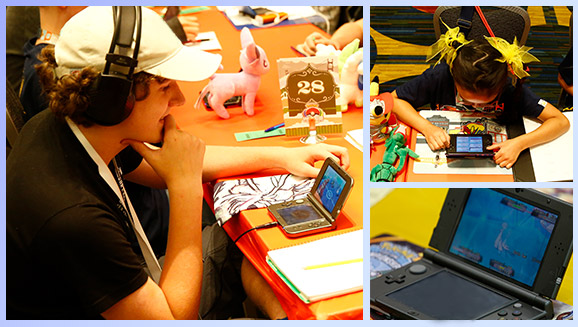 Written by Khalid Alhuraiz (@khalidVGC). If you have an article, you'd like to be posted to the site, send a direct message on twitter to @NimbasaCityPost or an e-mail to nimbasacitypost@gmail.com
--------------------------------------------------------------------------------
I'm Khalid, and you probably know me better as KhalidVGC. I run Pokemon UAE, a fan group based in the United Arab Emirates, that is focused on the competitive aspect of all major Pokemon games. While I'm no professor (yet), I've successfully run many VGC tournaments, and some TCG tournaments since late 2014, I was also the head judge for a TCG special event, but don't tell anyone!
The thought of running a tournament may seem scary at first, especially since you'll have a number of people showing up, expecting you to run things, but it's very easy once you get the hang of it.
This article, while focused on running a grassroots tournament (i.e., a non-sanctioned Pokemon tournament), I'm sure some of the points here would benefit would-be professors in running sanctioned events.
But first, what makes a judge a good judge? In my opinion, a good judge should be able to:
Smile and use positive language, tone, and body language in all communications
Be able to think on the spot and make the right decisions
Adapt to every situation
Stand firm on his/her decisions
Able to speak loudly and clearly
If you think you're lacking in any of the above qualities, don't worry. You can learn and practice them through running tournaments. Not everyone is born perfect. Since we've cleared up what you should be able to do, let's focus on what you should for your upcoming tournament.
1 - Find a suitable venue to host your tournament in
While looking for a good venue, you need to make sure it is actually able to carry you and your tournament. Some questions to ask while looking are:
Are you able to get permission to host in this venue?
Is the venue owner charging you for this space? (consider charging entrants an entry fee, if your local laws allow it.)
How many players are you expecting?
How many are you able to host with said venue?
Does the venue have the necessary equipment for a successful tournament (eg. sufficient chairs and tables, air conditioning, Wi-fi if mobile internet is unavailable if you're using an online tournament system, etc.)?
Is the venue easy to access?
Is the venue in a public space
If you are running this tournament online, a venue isn't needed obviously, but you do need to have a singular communication platform. Personally, I prefer using Facebook or Discord for online tournaments.
2 - Schedule a date
You should probably know every person has their own schedule, so being mindful of what's happening around you is important to know when picking a date. Some questions to ask yourself are:
Are people free on that day?
Is it a public or religious holiday? (Not all holidays are good days for tournaments.)
Are any other major events conflicting with your potential tournament dates?
Are any local gaming communities running any events on that day?
Are schools having exams right now?
Is it that time of the year where businesses are facing the annual end-of-year crisis?
Generally, you'll want to host on weekends since that's when people are generally free. If you believe a workday is best, that's your call.
3 - Schedule the Tournament Timings
Make sure you are prepared for the full duration of the tournament as a worst case scenario. My usual schedule looks like this:
Registration (1 hour): 11:00 - 12:00
Player Meeting (10 minutes): 12:00 - 12:10
Swiss Round 1 (1 hour): 12:10 - 13:10
Swiss Round 2 (1 hour): 13:10 - 14:10
Swiss Round 3 (1 hour): 14:10 - 15:10
Swiss Round 4 (1 hour): 15-10 - 16:10
Break (20 minutes): 16:10 - 16:30
Top Cut Round 1 (1 hour): 16:30 - 17:30
To Cut Round 2 (1 hour): 17:30 - 18:30
The above are just example timings. The time it took from Registration until the end of the final round is 7.5 hours. While it may seem like a lot, do keep in mind this is a worst case scenario, under the assumption every round will end in a timeout. Realistically, the whole tournament would likely take about 5 hours. There is some preference for running small-scale tournaments as a best of 1 to have the tournament run quickly. That is up to you and your players.
Also, if you don't want to have the event go to overtime because more players came that expected, don't be afraid to put a player cap! If you're running an online tournament, the above still applies, even if the tournament is not live, where players don't all have to be online and available for the tournament and is done over multiple days. In fact, in non-live tournaments, having a clear schedule is even more important, as players need to know when to check back or their new pairings
4 - Set up a tournament page
This is where players can look to check the rules and sign up. For this, I prefer Battlefy. Though it can be slow sometimes, it's very reliable and never gave me issues in running any tournament. Make sure you put up all the tournament details on here, including the date, time, schedule, and location.
Opening self-sign ups are optional, depending on what you prefer. If you have a player cap, be sure to set it here.
5 - Re-familiarize Yourself with the Rules
Even if you've been playing for years, it doesn't hurt to give the rules another fresh look. You may miss some minor changes on things you haven't noticed. Do keep a printout of the rules handy during the tournament in case you need to doublecheck with something.
6 - Announce the Tournament
Is it over yet? Not quiet. After posting up the event on your favorite social media platform (eg, on Facebook) You're just starting. Don't be shy to advertise your tournament in local communities like other gaming groups, especially Nintendo-focused ones. Be sure to ask permission from whoever runs those communities.
7 - Tournament Day!
Nervous? Calm down. Be at the venue on time, preferably an hour before registrations open. This gives you enough time to settle down and relax until people start coming. Sometimes, some people will come SUPER early because that's their only option, so coming early is worth it.
Make sure all your announcements are clear. Here are what you should be announcing:
Registration Opening
Registration Closing
Tournament info during player meeting (Number of players, number of rounds, expected tournament end time, etc.)
When pairings are up
Timer announcements (30 minutes, 15 minutes, time's up)
Breaks and what time players should be back (Give the exact time, not the duration!)
7.5 - Tournament Finish?!
Battles are won and lost, group pictures are taken, and now you have a group of players ... what to do with them?
Simple: Try to build a community with them. No community equals no tournaments to run, so be sure to nurture it and make it grow. There is no one right way to build a community, but do try to keep it positive, fun, and inclusive, while keeping all the toxicity out.
Running a community deserves its own article, so let's leave that for later.