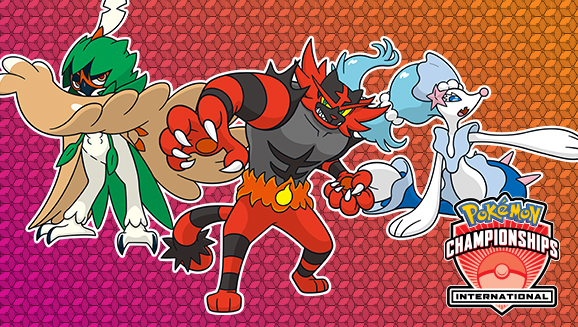 With the 2018 European International Championships coming to an end, its time to look at what happened before, during, and after the event to look at in order to get a better understanding of the event and what could be done to improve the experience at future International events for everyone. Without further ado, let's begin.
You can check out this infographic on the Top 8 and check out
TrainerTower
for the rest of the teams from the players that managed to make Day 2 at the European Internationals.
Player Caps and Poor Communication
Without a doubt the biggest issue many players had leading up to the event, the problem was that when signups for the European Internationals were announced, it was advertised as up to 750 players would be allowed to register as shown in this
tweet
from Justin Carris (
@AzazelVGC
). The problem however was that that this tweet is the most credible as the screenshot was information from the official Pokemon website but for some reason, due to this information being deleted for an unknown reason. Because of this information, trust in Play Pokemon, the company that manages the official competitive Pokemon circuit, has weakened due to this which many players lack of trust in Play Pokemon's ability to properly run the circuit as supported by another
tweet
from Justin Carris which showed on day 1 of the competition which showed multiple rows of empty tables which many players have wondered if the player cap was never reached both in the TCG and VGC, then what are these chairs being used for.
The main overarching issue that many players had because of the player cap issue is a larger issue of poor communication from Play Pokemon to properly address issues in a timely matter or even at all. Going back to the issue with Hayden McTavish (
@Enigne_
) from this
tweet
where the issue was CP that he needed to earn his invite to the 2017 World Championships wasn't put in the system. Hayden sent a support ticket to Play Pokemon asking for them to try and fix it on July 4th, 2017 but was given an answer July 31st that wasn't helpful as when it was responded to, the 2017 season had already ended as of July 10th. The final
tweet
in this mess of a situation was him only to find out that the TO who hosted the event Hayden ended up winning to earn the points needed for his 2017 World Championships invite was that the organizer wasn't approved to run sanctioned events in the first place although it was listed was a sanctioned event. Many players have said that because of this situation, Play Pokemon needs to work on improving how they communicate with their player base because without them doing this, it could spell bad things for the future of the competitive circuit.
Positive Stream Overlay Improvements
This is their second usage of this overlay and seems to be their official overlay for the International Championships. A positive improvement is the addition of showing the Pokemon each player is bringing to each game, then graying them out once the Pokemon faints. The cool thing about doing this is should someone come to stream in the middle of a game, they can see which Pokemon have come to the game and even see which Pokemon have already fainted. Grassroots Pokemon VGC events have shown all 6 Pokemon on a player's team all at once, but this addition shows all 4 relevant Pokemon brought to the game to make it easier to understand the progress of each game.

The Italian Domination
As the tournament progressed, it was interesting to note that Italian players were doing very well. With 16 Italian players making it into Day 2 of the European Internationals and 5 of those making it into the Top Cut bracket with Simone Sanvito (
@SanvyVGC
) eventually winning the entire tournament. We also saw the overall Lorenzo Semeraro (
@Cl4sHyVGC
) surprising everyone and going into Top Cut as the first seed. We also saw Davide Cauteruccio (
@DynamoVGC
) surprise everyone with a very deep run essentially flying under the radar to cap off his Top 4 run. Davide Carrer (
@Nirinbo_VGC
) had a very dominant run going 9-0 on Day 1 and doing very well going 4-1 on Day 2 to make Top Cut, eventually losing to American Carson Confer in Top 8. The final Italian in Flavio del Pidio (
@PadoVGC
) also did very well Friday going 8-1 to put him in a strong position Day 2 where his 3-2 finish then was strong enough to allow Flavio to make Top 8. Overall, Italy had a very dominant show and with the winner being Italian as well as the level of quality in Italy's players improving, its safe to safe that Italy as a country will become even more of a threat.
Looking to the next International Championships
With the 2018 European International Championships having ended, the Pokemon Company have officially announced the location and date of the Oceanic Internationals, the next International event. It was confirmed to take place February 9th - 11th, 2018 in Sydney, Australia. An important question will whether an official stream happen as it there wasn't one last year where
Meloetta Minstrels
and
Pokemon Australia
stepped up to the plate to both cover games and the event experience to provide an enjoyable stream experience to viewers at home. Whether an official stream happens or not, you can expect both of them to keep viewers at home updated, which for last year, made it insanely helpful to keep up with the event.
I hoped you enjoyed this article. Overall, the event was handled well outside of some minor issues and looking into of the 2018 season, the future looks bright and I hope you can check out the Nimbasa City Post going into the 2018 season to help understand the event better. See you guys next time. Bye!